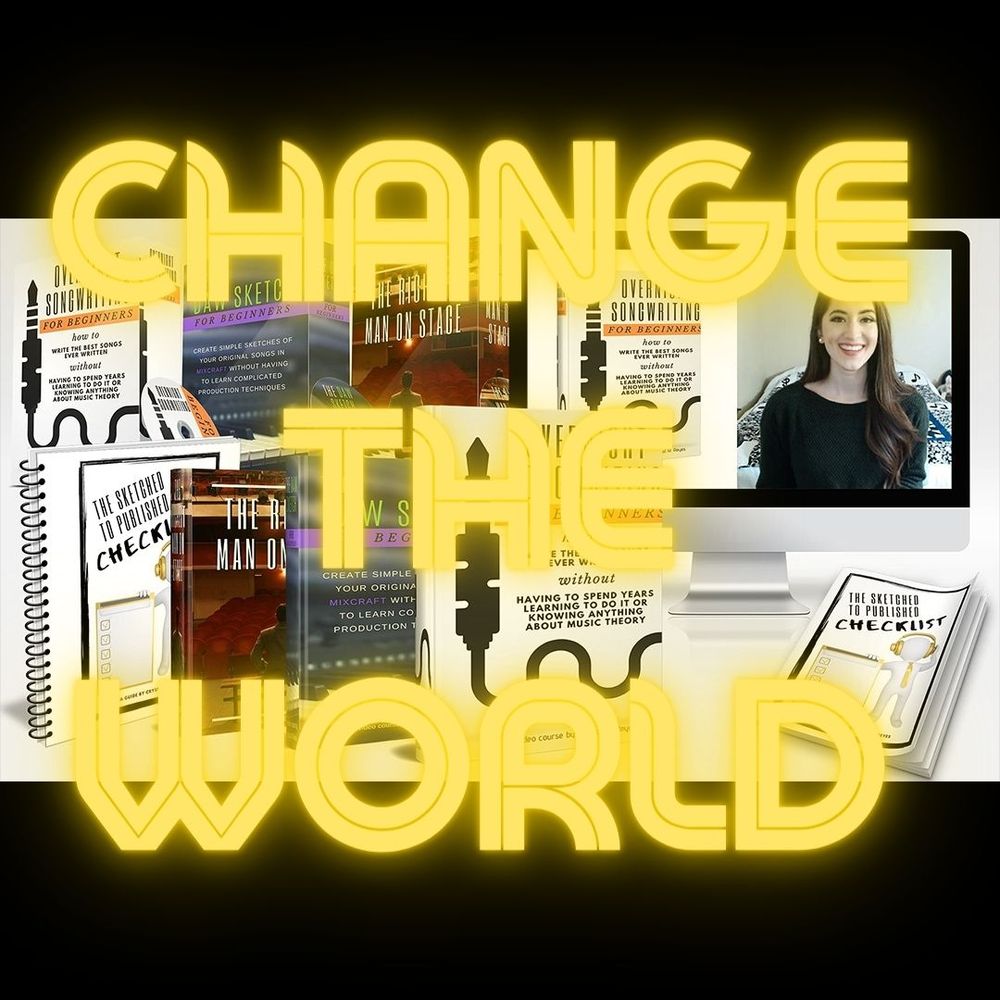 DONATE TO SUPPORT THE MISSION
Venmo also accepted: @Crystal-Reyes-17
Enter the amount you wish to donate
1,160 

People Have Been Delivered Their Course So Far!
I'm on a mission to provide the gift of songwriting to 10,000 people free of charge!
Can you imagine the impact we would have on the world if we could get this course into the hands of 10,000 people?
...how many lives we would change?
...not only the lives of the people using it, but the people affected by the songs they would write?
Thousands upon thousands of lives would be forever altered.
...their children.
...their children's children.
The world NEEDS music.  So...
I've been running ads to give this course away.  Ads that I pay for out of pocket entirely by myself.  Because I want people to have this.
And I've already gotten emails from total strangers about how this was exactly what they needed.  About how their lives have been changed by the lessons.  About how they can finally live out their dream to write the music in their hearts.
You have all been so wonderful about supporting me in my art.  My life has been blessed immensely because of all of you.
So now, with your permission, I'd like us to turn our attention outward a bit.  I'd like your help in my mission to provide this free education to 10,000 people.
There are two ways you can do this.
1) Share the course with anyone you think would want it and encourage others to share it.  Let them know it's free and that you think it could be of use to people with the magic of music in them!
2) You can donate to help me pay to get this to more people.  I won't take a cut of your donations for myself at all.  It will only be used to push the course to more people!
It only costs me between $1 and $2 per successful delivery.  I'm going to keep track of how many people the course has been delivered to at the top of this page so you can follow along with me as we achieve this!
As a young child, we couldn't afford music lessons.  Some kind people saw my passion for the arts and taught me music for free.
Can you imagine how different things could have been if that hadn't happened?
Our Kingdom might not even exist........
So, heroes...
Are you willing to help me?
A single share could change the course of someone's future...
A $1 could change the course of someone's future...
If you are ready to accept this mission, donate above or contact me with the words "mission accepted" via my contact form or at crystaleyesbooking@gmail.com
Thank you!!!!!
All my love,
Crystal <3
COPY AND PASTE LINK TO SEND THIS COURSE TO SOMEONE:
https://crystaleyesbooking.clickfunnels.com/free-course-bundle
Heroes
Thank you all for your help in sharing this course with the world!
Elida S. - USA
Shaho A. - Iran
Travis B. - USA
Lee L. - UT, USA
Abby S. - FL, USA
Akshay V. - Mumbai, India
David B. - TN, USA
Kieran O. - NY, USA
Patricia R. - UT, USA
Indercio R. - UT, USA